Conspicuity (HighViz)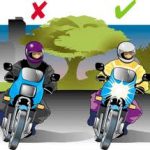 This section contains research regarding motorcycle/motorcyclist conspicuity (con-spik-CUE-i-tee).  For information and tips on how you can make yourself and your motorcycle more conspicuous visit the Gear – HighViz pages.
Much of the information in this introduction is taken from PTW crashes and the role of perception (Christoforou, 2015).

Low or limited motorcycle and motorcycle rider conspicuity has been long recognized as an important motorcyclist crash contributory factor.  Crash investigations from many countries indicate that between half and three-quarters of all motorcyclist crashes involve collision with another vehicle.  In many of these collisions the other vehicle violated the motorcyclists' right-of-way (ROW).  Most of these ROW violation crashes involving motorcyclists are attributed to perception errors on the part of the other vehicle driver.   The driver of the other vehicle violated the motorcyclists ROW because they 'looked but failed to see' (LBFS).  LBFS crashes happen when the car driver pulls into the path of an oncoming motorcyclist and claims not to have seen him/her approaching.
One often discussed reason for LBFS ROW violation caused crashes is that motorcycles/riders are less conspicuous than other road users.  The theory then is the frequency of these types of crashes could be reduced if motorcycles and riders were made more conspicuous.   A lot of research has been undertaken since the mid-1970's on this 'motorcycle conspicuity hypothesis.'
The word conspicuity is often just considered a fancy term for visibility or notice-ability meaning the ability of an object to draw attention to itself, even if nobody's actively searching for it.  However, as the abundance of research available here shows, the issue of motorcycle and motorcyclist conspicuity is a highly complex matter.  Conspicuity can be examined from at least two different perspectives.
First is the perspective we usually associate with the term.  This perspective refers to the extent that an object (in our case motorcycle and rider) can be distinguished from its  environment because of its characteristics (size, brightness, color and so on).  It is the  objects ability to attract visual attention and to be precisely located because of its   physical property.  This is called sensory conspicuity and this perspective leads to  measures like extra lighting and high-viz riding gear.
Second is cognitive conspicuity.  This is from the perspective of the observer.  Cognitive conspicuity depends on the distinction of an object based on the observer's experiences and interests.  It is linked to the fact that an observer's focus of attention is strongly influenced by his/her expectation, objectives and knowledge. Visual/cognitive phenomena  such as inattentional blindness and change blindness are important factors that are associated with the observer.
Motorcycle and rider conspicuity are, therefore, not just connected to the rider and motorcycle but most importantly to the observer and both are connected to the ever changing environment for both the rider and observer.  Color, light and contrast are the primary components of conspicuity.  Here is a link to a blog article by Clearwater Lights that explains these three components.   SMARTER has no connections with Clearwater Lights.
While the overall evidence certainly does indicate there is a benefit to riders who make themselves and their motorcycle more conspicuous (high-viz), there remain many unanswered questions.
Christoforou, Zoi & Yannis, George & John, G & Peter, S. (2015).  PTW crashes and the role of perception. Increasing Motorcycle Conspicuity: Design and Assessment of Interventions to Enhance Rider Safety. 3-20.
Conspicuity Research Studies