Lane Splitting
In general lane splitting, lane filtering and lane sharing refer to the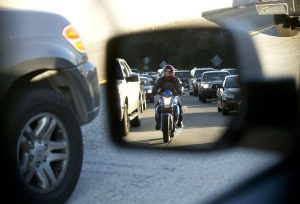 practice of passing slower moving or stopped traffic by riding a motorcycle in the gap between two parallel lanes of traffic heading in the same direction.
Lane Splitting: refers to operating a motorcycle between rows of stopped or moving vehicles in the same lane. California is the only state to enact a law that allows lane splitting.
Lane filtering: is the act of weaving between slower-moving traffic or traffic that is at a standstill. This is a common practice seen in Asia and different parts of Europe.
Lane sharing: is where two or more motorcyclists will share a lane (ride side-by-side) in standing or moving traffic.
Shoulder surfing:  Motorcyclists can ride on the shoulder of the road to pass stopped vehicles as long as the road has two lanes of traffic traveling in the same direction.
It is important to distinguish between the definitions of these practices and know the specific law of the state.  This is often difficult as the state laws vary widely.  These practices are sometimes clearly legal or clearly illegal. In many cases there are no laws addressing the specific practice – the practice is not explicitly legal or explicitly illegal.
In most cases, the term "filtering" has been used to specify moving between stationary traffic, while the term "lane-splitting" has been reserved for riding between traffic in motion (State regulations)
There is a general belief in the motorcycling community that these practices are as safe or safer than remaining in the lane. Many motorcyclists cite the California/Berkeley research as evidence that lane splitting is safer than remaining in the lane, however, this  belief is based on a misunderstanding of the goals and results of this research.
Regardless of name, reports specific to the general practice of motorcyclists riding between either stopped or moving traffic are referenced in this section.
Additional information can be found in the Research – Crash Causes section, specifically reviewing the research regarding the position or placement of the motorcycle in the moments just prior to the crash.
Lane Splitting Research Studies