Board of Directors
This is the management team committed to providing motorcyclists, the public and elected decision makers with the research and information necessary to develop, maintain and implement comprehensive motorcyclist safety programs.
The Board of Directors of SMARTER 2019:  Back row left to right: Jason Bradford, Director and Rich Henrion, Chairman. Front row left to right: Dr. Don Smith, Vice-chair, Eugene Pratt II, Director, Sean Duperron, Treasurer, Scott Shoup, Secretary, Dan Petterson, President/CEO
Board Chair - Rich Henrion

Rich Henrion, after having served on the board of directors of SMARTER in various capacities since its inception, was elected chair in January 2013.  He is a Detroit-area native who lives in Michigan's Upper Peninsula and taught High School Auto Technology for four decades until retiring in 2015. Upon retirement, Rich spends time with five grandchildren, is a Cub Scout Den Leader and an obsessed motorcycle rider. Rich won the BMW Motorcycle Owners of America North American summer of 2018 mileage contest with an amazing 45,680 miles.
Rich holds double master's degrees in education, is a Master Mechanic, a Motorcycle Safety Foundation RiderCoach (since 1980), RiderCoach Trainer (since 1986), MSF Chief Instructor award winner, long-time Iron Butt member, and multi-time guest author for the BMW Owners Association magazine. Rich is also a third-party tester for the State of Michigan and conducts both motorcycle and automobile tests. He is an active member of the UP Traffic Safety Council.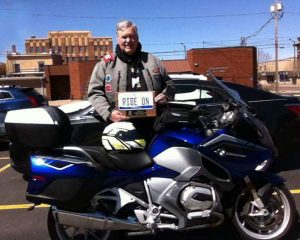 Rich rides a 2016 BMW R 1200 RT.  He is the best person to ride long distance with, as he never gets lost (GPS expert) and has the skill and carries the tools he needs to fix any possible breakdown. In 2006 Rich participated in the Alcan 5000, a motorcycle off-road rally that started in Seattle, Washington, and ended in Anchorage, Alaska. He rode the Continental Divide in 2010, covering 2600 miles of mostly off-road riding in 12 days, starting on the Mexican border and ending on the Canadian border. Accompanied by president/CEO, Dan Petterson, in July 2012, Rich completed the Trans-Labrador Highway adventure ride. After a complicated hip replacement in 2015, Rich now sticks to road riding.
President / CEO - Dan Petterson, Ed.D.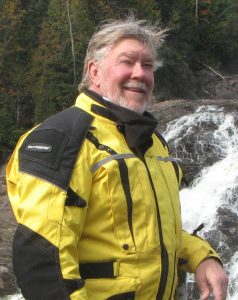 Dan Petterson, Ed.D., is SMARTER's president and chief executive officer. Dan has an extensive background in both public K–12 and motorcyclist-safety education. In 1990 he earned not only a doctorate in education but also certification by the Motorcycle Safety Foundation (MSF) as a chief instructor. He was named the MSF 2003 RiderCoach Trainer of the Year and in 2011 was selected as one of five individuals nationally to receive an MSF award for "Extraordinary Contributions to Motorcyclist Safety."  The Michigan Driver and Traffic Safety Education Association (MDTSEA) chose Dan as its recipient of the 2014 Silvernale Award, the purpose of which is to recognize persons nationally who have made outstanding contributions to traffic safety education.
Dan has contributed to the development of several MSF curriculum components, has served as the State of Michigan's motorcyclist-safety coordinator and has presented at numerous state and national motorcyclist-safety conferences. He is currently involved in numerous traffic-safety committees.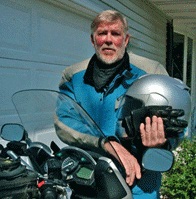 Dan has completed coursework from Michigan State University in motorcycle crash investigation and consults with attorneys and law enforcement in complicated crashes involving motorcycles. He has also completed many advanced-level motorcycle rider training courses.
As an avid motorcyclist, he has ridden in every state and has also ridden the Mexican Baja Peninsula, the Copper Canyon area of Mexico, the Continental Divide Trail from Mexico to the Canadian border, has ridden to the Arctic Circle north of Dawson City Yukon, and has toured beautiful New Zealand.  Accompanied by vice-chair, Rich Henrion, Dan completed a Trans-Labrador adventure ride in 2012, a 15 state, 22 day, 6,500 mile 2-up ride  to the northwest with his spouse Susan in 2014 and a recent 10,000 mile trip into Canada and Alaska.  He rides a 2012 Yamaha Super Tenere.
Vice-Chair - Don Smith, Ph.D.

Don Smith, Ph.D., Professor Emeritus, Michigan State University, was the chair of the board of directors of SMARTER from its inception until January 2013, when he relinquished his post, saying that it was one better suited for an active motorcyclist.
He is a leading traffic-safety expert, having authored or co-authored numerous publications as well as having consulted on or directed numerous traffic-safety research projects. Don is the grandfather (some might say the godfather) of Michigan's rider education program. He was selected by the Motorcycle Safety Foundation to conduct Michigan's first motorcyclist-instructor training in 1973 and was a consultant to the Foundation in the development of the first Beginning Rider Course and the initial Motorcycle Rider Skill Test.
Don served as the motorcyclist safety program coordinator at Michigan State University for many years.  He was the recipient of MDTSEA's Silvernale Award in 1976 for his work at MSU's Highway Traffic Center. Don and Tom Hampton, who served as the SMARTER's inaugural vice chairperson and was the first educational consultant for rider education with the Michigan Department of Education (1979-1997), built Michigan's rider training programs.
Secretary - Scott Shoup

Scott Shoup serves as secretary of the SMARTER board. Ever since Scott got his first dirt bike, at age six, his enthusiasm for motorcycling has not subsided. He enjoys all aspects of the sport and has a background in trail riding, motocross, touring and sport bikes, including the occasional track and day cruisers.
Wanting to share his passion with others, Scott became an MSF RiderCoach in 2002, and in 2007 he became Harley-Davidson Rider's Edge certified. Scott is a Lead/Chase rider for Yamaha Event Demos and has participated in the "New to 2" initiative across the country to attract new riders to the sport.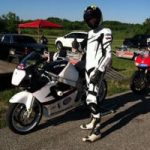 Scott is a lifelong resident of Mason County, MI. To support his passion, he works as an insurance Underwriter.  As a member of the Scottville (MI) Optimist Club, he was selected the club's 2012 Member of the Year, was formerly vice-president of the organization, and was its 2013–14 president.
Treasurer - Randy Travelbee
Randy Travelbee was elected as a SMARTER Board member in January 2020.  He has been a resident of southern Michigan all life with the exception of a few years transferring with the company for which he worked.  His work transfers included a couple of years in WI and a few years in southern Indiana.  He retired in 2017.
Randy has been riding motorcycles since 1969 when his Mom bought him an early graduation present. My first ride (thanks to his Mom) was a 1968 Montgomery Wards 125cc Riverside.  He rode the Riverside all over Michigan in the summer of 1969.
Since retiring he has spent much more time restoring older Japanese motorcycles.  His current stable includes a 1982 Honda CB900, 1979 Honda Twinstar, 1983 Honda GL650, and a 198? something Yamaha TW200.  His everyday ride is a 2010 BMW F650GS.  Randy has been a Motorcycle Safety Foundation (MSF) instructor since 1985.  He is a long time member of the Iron Butt Association.  Randy has been a SMARTER member since the inception of the association in 2007.
At the annual January 2020 meeting Randy was elected to serve as the SMARTER treasurer.
Director - Jason Bradford

Jason Bradford is a lifelong resident of Grand Rapids, MI. He completed college in the Grand Rapids area, earning degrees in business and law enforcement. After ten years of co-owning and operating a lawncare and snowplowing business with his brother, the decision was made to sell so that each could concentrate on their respective professions.
In 1995 Jason began his career in law enforcement, and in 1996 he started as a patrol officer with the Grand Rapids Police Department. During his time with the Department, Jason continued his learning, taking classes in human behavior and educational-training concepts as well as completing a series of leadership courses. Jason retired from law enforcement in 2013 to pursue his goals in motorcyclist-safety training.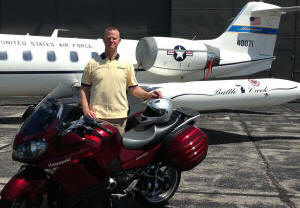 In 2009 Jason achieved certification with MSF as a RiderCoach. Besides the teaching duties, Jason has assisted with various tasks, such as course preparation and curriculum development. Jason continues to teach with the Grand Rapids Community College (GRCC) program while being the program manager of Fox Powersports Riding Academy.
Jason has had numerous motorcycles. He has enjoyed working on and riding classic Hondas; has owned many Gold Wings, numerous Harley-Davidsons, sport bikes, and dirt bikes; and currently he rides a Kawasaki Concours sport touring. Jason has toured the country from Canada to southern Florida, has completed many Iron Butt rides, and of course still enjoys the occasional track day. He also volunteers with helping to organize a civilian motor patrol for many athletic events held in the greater Grand Rapids area.
Having served the public for nearly two decades, and having worked with hundreds of new riders to achieve their dream, Jason has seen both the good and bad sides of riding motorcycles. He is committed to being an example of how a safe, thoughtful motorcycle rider can make proper choices. Jason's goal is to provide fellow motorcyclists with the facts and knowledge they need so they, too, can make informed choices.
Director - Eugene Pratt II

Eugene Pratt II was appointed at the October 6, 2012 board meeting to fill a vacancy on the board of directors. His enthusiasm for powered two-wheelers started at age six when his father and mentor, Eugene Pratt Sr., gave him a Briggs 5 h.p. minibike. His dad taught him to put needs before wants and to do only what means allow, but he learned on his own what a governor was and that without one he could beat any 7.5 h.p.! He soon after got a CT 70 Honda and put thousands of miles on it riding every day after chores were done. Next was a 250 Yamaha he bought from his great uncle and used to compete with friends on tracks they built in their parents' backyards.
A lifelong resident of Michigan, Eugene is an avid outdoorsman, enjoying with family and friends a number of hunting and fishing trips throughout North America, even some with pack mules in tow. As a child, his parents set out on many motorcycle trips without him, but after graduating from high school, he got a 82 GL 500 to ride on weekend trips with them and their friends. They stowed everything in duffle bags, until 1987, when Eugene bought a GL1100 to pull a pop-up camper. That was the life: no more tents! Two years later, he got married…and a roomier pop-up. Then in 1992, Eugene bought a GL1500 Gold Wing, adding a Champion Daytona 2+2 sidecar, the first ever sold to the public. He called it the "grocery-getter" and still rides it to this day, now using the hack for his grandkids.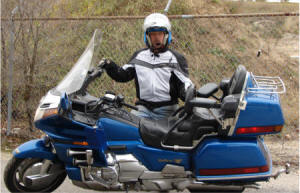 In 1996, Eugene took his most memorable trip ever, along with his wife, their son and daughter, and his parents: an 8000-mile journey out west, camping all but one night, with temperatures ranging between 28 and 120 degrees. More recently he has traveled extensively— to Iowa, Wisconsin, and Ohio—with his son Eugene III, who took his first MSF class at age 14 years 8 months, after receiving his driving permit.
Eugene took his first MSF RSS rider training class in 1981. He just got his driver license and wanted his CY endorsement, too. Subsequently, he took three advanced rider classes, and in 1997, as a member of GWRRA, he became an MSF Rider Coach, realizing this was the best way to share his passion for riding with others. He was very competitive in events taking place at rallies, which fueled his desire to teach others how to control motorcycles at low speeds as well as other techniques that would give them a positive riding experience. During his RiderCoach training, Eugene was hired by the Ferris State University motorcycle training program. He and a group of fellow instructors went to Orlando in 2002 for a week of intensive training to become Harley-Davidson Rider's Edge coaches, and he remained with the program for two years.
Eugene practices what he preaches, riding with full gear and employing risk-reduction strategies as he rides, and he has 225,000 accident-free miles under his belt.
As president of Ace Tool & Engineering Inc., he rides less now (but still averages three to six thousand miles a year) and he trains more, which gives him the opportunity to meet a lot of great motorcyclists. He shares with his students that he will ride with any motorcyclist who rides smart and rides safe! And for added safekeeping he tells them, "Keep the shiny side up. God bless."
Former Officer and Directors – learn more about the folks who have been a driving force and have helped steer the course of the Skilled Motorcyclist Association—Responsible, Trained and Educated Riders, Inc.