Wearing Quality Gear Helps When Motorcyclist Collides
With Deer
A Presentation by Randy Klifman to the Michigan Motorcycle Safety Committee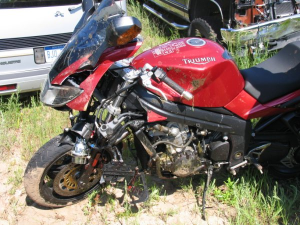 My name is Randy Klifman, and I AM HAPPY TO BE HERE. I have been riding motorcycles for almost 40 years. Like many motorcyclists, I was not concerned with the use of safety equipment; but a few years ago, I became involved with the Motorcycle Safety Program with Ferris State University. As the program manager and a Rider Coach, I really bought into the importance of safety equipment.
On June 15, 2009, I had an early morning motorcycle/deer accident. The crash totaled my bike and broke five ribs, my shoulder, and punctured my lung.
The ER doctors were amazed that there were only a few external injuries; but when they saw the shredded ¾ length armored coat and the gouged full-face helmet that I was wearing, they said that the safety equipment reduced my hospital stay by several weeks, if not saved my life.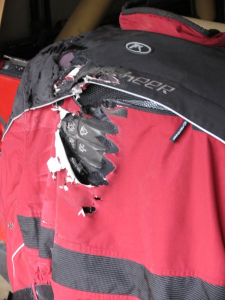 I am an advocate for proper gear (especially helmets). I practice braking and swerving, and I use the SEE method (SEE: search, evaluate, and execute) every time I ride. I had been accident-free for about thirty years, but some things you just cannot prepare for (like a deer running out of the swamp twenty feet in front of you and stopping). I know that I am one of the few who has survived this type of accident.
I would like to thank this board for fighting to keep the helmet law, and I thank the State of Michigan for offering motorcycle safety training classes. The law made it mandatory, and the safety training made it common sense. I would like to say that sometimes doing the unpopular thing is the right thing.
Thank you.