Spine Injury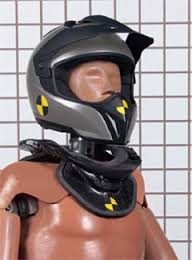 Studies listed in this section specifically address helmet use and neck/spine injury.
A common objection to helmet use is the fear that any benefit in preventing brain/head injuries may by offset by increased neck injuries, especially spinal cord injuries.  This fear is rooted in the 1986 Goldstein study which concluded (among other things) that past a critical impact speed to the helmet of 13 mph, helmet use reduces the severity of head injuries at the expense of increasing the severity of neck injuries. The Goldstein results have been adopted by the anti-helmet community to justify resistance to compulsory motorcycle helmet use on the grounds that helmets may cause neck injuries.
Other studies listed in this section specifically refute the results of Goldstein, the most damning is the 2016 replication of Goldstein which asserts Goldstein fabricated values for a variable that was missing, and used an invalid method of summarizing overall neck injury severity.  The authors believe their paper sets the record straight on the association of helmets and neck injury and recommend that the Goldstein paper be retracted by Evaluation Review, the publisher of the original Goldstein study.
The Cochrane review identified 12 studies that used neck injury as an out-come and reported that the data could not support any conclusion about the possible association between helmet use and the occurrence of neck injury.  Other studies reported in this section find that both helmeted and unhelmeted riders suffer neck injuries or the relationship between helmets and neck injuries is dependent upon the type of crash (frontal, rear-end, side impact, etc.).
On one hand, it seems clear that thirty years of wrong information has been disseminated by individuals and organizations opposed to helmet laws.  On the other hand, the available research does not seem to eliminate any and all association between helmet use and neck injury.
Spine Injury Research Studies