Crash Survivor Stories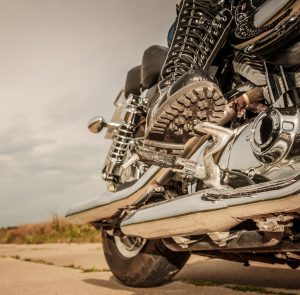 The SMARTER website contains lots of facts and data. In this section we share "Survivor Stories." For the most part, that means stories from riders who have crashed and report on the effectiveness of their riding gear, including their helmets. Most people are much more engaged when they hear or read a narrative about events. A story makes connections between cause and effect. We remember stories because that is exactly how our brain works.
Lifesaver: A year after motorcycle crash, Jim Lumley still thanks his helmet: A Northern Express Apr. 29, 2013, article wherein Jim explains he is glad he was wearing his helmet at the time he was involved in a low-speed crash even though the law in Michigan had changed the year before to make wearing a helmet optional. The low-speed crash turned out to be high-stakes for Lumley, who suffered a serious injury to his knee. He also believes he owes his life to the helmet that cracked when it hit the windshield. It was a high-end, $350 helmet, with an air cushion that inflated to further protect his head. The helmet was destroyed in the crash. "Literally, I could have legally been riding without a helmet, but I chose to wear a helmet," he said.
Jimmy Hunter Is Glad He Wore a Quality Motorcycle Helmet: A Muskegon Chronicle article describes Jimmy's recovery following his motorcycle crash.
Jason McVicar Tells about Surviving His Motorcycle Crash: A video report of McVicar's experiences at the Bonneville Salt Flats and how he crashed at over 200 MPH and survived, which he attributes to his motorcycle helmet.
Mark Lowry Tells about His Motorcycle Crash: Video
Below are three first-person reports about gear and crashes posted at RideApart
Crash Survivor Stories
Randy's Quality Gear vs. Deer
Wearing Quality Gear Helps When Motorcyclist Collides With Deer A Presentation by Randy Klifman to the Michigan Motorcycle Safety Committee My name is Randy Klifman, and I AM HAPPY TO BE ...
Read Full Story
Quality Gear Reduces Melissa's Injuries
Van driver violates Melissa's right-of-way In Columbus, Ohio, on May 19, 2015 while riding my motorcycle home from a doctor's appointment, I was involved in an accident (about two miles fro...
Read Full Story
Novelty Helmet Fails Lon
Dot-Certified Helmet Is Better Choice Than Novelty Helmet Lon describes his experience wearing a novelty helmet I am going to attempt to detail my experience and subsequent recovery as a r...
Read Full Story
Jim's Tips to Avoid Deer
Full-face Helmet and All the Gear Help Motorcyclist Survive Deer Crash Tips to Prevent a Deer Crash and Ways to Protect Yourself in the Event of a Crash It was a long, slow, no-emergency r...
Read Full Story
Helmets Save U.P. Couple
Motorcyclists Hit Deer in Michigan's Upper Peninsula Full-face helmets save motorcyclists' lives after colliding with deer My first awareness was of spitting into gravel inches from my fac...
Read Full Story
Helmet Saves David's Son
Motorist Violates Motorcyclist's Right of Way Helmet saves David's son after car stops and then pulls into his son's path My son had just moved to Des Moines from our home in Pella, Iowa. ...
Read Full Story
Gear Shortens Caryn's Rehab
Protective Gear Saves Caryn's Life and Shortens Rehab Motorcycle-specific gear does its  job when motorist violates rider's right of way My name is Caryn Dolores Myers, and wearing motorc...
Read Full Story